Welcome to Decora
Decora Art & Colour Pte Ltd is a specialty decoration contracting company. We specialize in providing decoration solutions with special building materials for interior and exterior residential and commercial projects. Our products and solutions are green, innovative and deliver unique aesthetic effects.
We work closely with architects, designers, home owners and contractors, providing technical support and solutions to bring new and exciting products to the market. Decora represents several brands of world-class Italian coating products in the Asia Pacific region including San Marco, and Atria.
What distinguishes Decora is our unparalleled commitment to service. Decora aims to be the leader in specialty building materials in the Asia-Pacific region.
Decora Art & Colour Pte Ltd is led by directors Luigi Sparacello and Matthew Drake who carry decades of experience in theme building and decoration in the USA, Europe, Hong Kong, Macau and Singapore.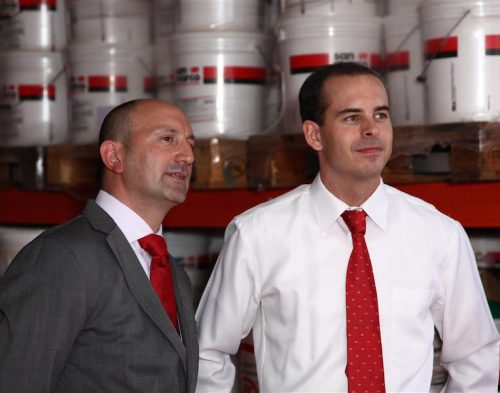 WHO WE ARE?
A team of industrial painters, designers, and project managers.
We Make Spaces Beautiful
Able to customized paints and finishes
Work with client/designers to achieve required finish
Create an unique look
Cost effective solutions
We Provide Exceptional Service
Art Director stationed in Macau to help with matching samples and providing quick turnaround of samples
Project experience all over Asia
Interior and exterior special finishes experts
(25 collective years experience in Italian painting & project management)
Technical solutions using high quality coatings
Expert trained staff for installation
Products & services competitively priced
We Are Green & Good For the Environment
Low VOC (volatile organic compounds)
Water-based products
Partners –
San Marco Paint – Asia Pacific Region
We are a support partner and exclusive distributor in the Asia pacific region for San Marco, the world-class italian Brand for coating products.
San Marco is a leading italian manufacturer with more than 80 years experience. San marco manufactures high quality paints, varnishes, stuccos and wide range of free volatile organic compound products. Many of the products use natural local ingredients such as lime and marble dust to produce unique and durable finishes line decorative finishes.
The Decora Company LLC – Decora Tools
Detail
Decora Company LLC is part of the larger Decora Group, which carries out decoration work and material supply in more than ten countries. We have worked with world renowned clients such as Wynn, Venetian, MGM, Disney, Marriott, Starwood Group, Credit Suisse and many others. We are owned and operated by true decorating enthusiasts, people who always know what is the best tool for the job and how to create stunning pieces of art on your wall.
We love reading up on interior design magazines and are more than happy help you find the best paint, plaster or tool that you are looking for! Our passion has always been to stay ahead of our competition through having a great eye for design and stocking the highest quality products on the market. We really love what we do and it would be a pleasure to provide you the best service possible.
We carry high quality products from Italy including San Marco brand paints. San Marco is a family owned business that has been manufacturing high quality paints and plasters in Venice for more than 50 years. Their specialties are lime based marmorino and special effect paints. In addition we carry Pennelli Tigre tools, which are the tools of choice for professional decorators in Europe.